Looking for reliable, high quality audio SIP trunks with geo-redundant backup in different data centers across the United States? You have come to the right place.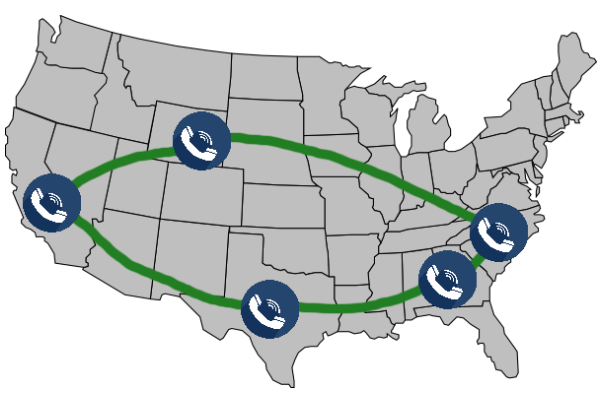 DigitalPhone.io a leader in the SIP origination and termination business offers very competitive pricing on SIP trunks, DIDs and E-911 Services for your PBX server. We are compatible with a large number of PBXs and our engineers will do interop testing before going live with your traffic and DID.
With more than 6,800 rate centers in the United States and Canada we can easily port your existing numbers or assigned new numbers to your service.
Call to speak to one of our sales engineers today (336) 544-4000.
The SIP trunking services and VoIP access market has maintained its pace to become the default source of connection between on-site consumer platform and the PSTN (public switched telephone network). They are also expected to hold their stance prominently in supporting the efforts of a large number of revolutionary businesses towards digital transformation. The next generation voice access services include:
Basic VoIP Access Services: These are congregated access lines linking with basic low-end structures or primarily with telephony endpoints usually via ATAs (analog telephone adapters).
VoIP Trunking: These are joined access lines linking through TDM (time division multiplexing) enterprise telephony platforms.
SIP (Session Initiation Protocol) Trunking: These are converged access lines linking with IP based telephony platforms.
The market drivers that are having a positive effect on the SIP trunking services and VoIP access market of North America along with technology trends related to SIP trunking services and VoIP access are identified to be the advanced on-site UC (unified communication) platforms. This includes Cisco Unified Call Manager and Microsoft Skype for Business, which are already augmented for SIP trunking instead of legacy communication services. This has become a substantial element, which is attracting businesses towards the service. Similarly, feature-rich value-added services at a competitive pricing have encouraged consumers to switch to voice services based on IP. On the other hand, inert migration tactics at the end of some providers and the intrusion of substitute services, for instance, persuasive UC services based on cloud, have been identified as the factors that are holding back the market to reach its maximum potential.