If you're in a real hurry to join our team of successful Partners, call Gary Tomlin our Vice President of Partner Sales at (336) 560-4408 and he will set you up with one of our Partner Managers.
We are in it to win it. Are you? Our offering is designed to address communication requirements, large or small, in a reliable and consistent manner that allows you to sell it with confidence, earn commissions, and grow your business by adding real value. Watch this short video to learn more about how your company can be a successful partner selling DigitalPhone.io services.
Portal Views & Scopes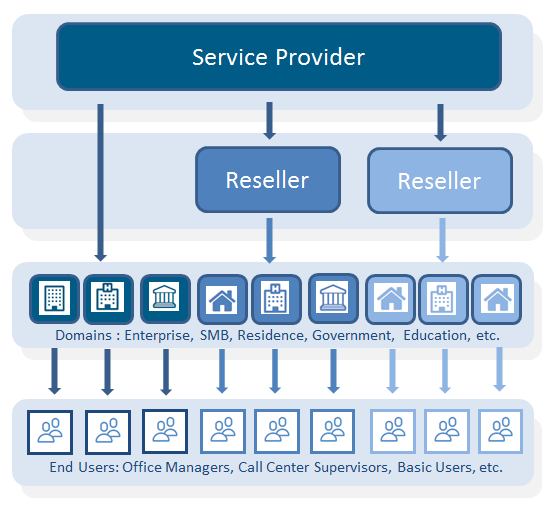 Each person who interacts with the portal will receive a login. This login gives them access to a specific set of features within the User Interface which corresponds to the viewing permissions that were granted to them by DigitalPhone.io. We can give viewing permissions for pre-set scopes such as "Super-user", "Reseller", "Office Manager", "Call Center Supervisor", "Call Center Agent" and "Basic User". We can also turn-on and turn-off features or customize the branding for individual users or user groups.
Professional Training and Development
DigitalPhone.io Training and Development is uniquely crafted in a collaborative effort of senior technicians with decades of experience, corporate trainers with advanced academic credentials, and a leadership scholar. Our tools and methods combine experiential learning with readily accessible on line content for review. That's training that sticks. Our process is simple, but our results are exceptional. We assess the needs of your team, we design a collaborative model for content delivery, conduct the training, evaluate the results and provide a feedback loop for continuous improvement.
Meet DigitalPhone.io's Technology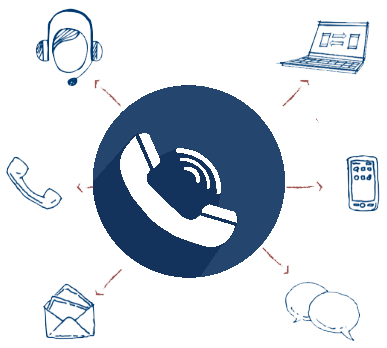 We provide advanced VoIP and Unified Communications technology to our clients using the industry's leading service providers. The scalability and flexibility of the DigitalPhone.io platform gives our Partners, of any size, the ability to offer more to their customers, increase their ROI and stay ahead of the competition.
Offer Hosted PBX/Web Centrex functionality to your end-users in an extremely flexible, scalable, and profitable manner
Deliver next-gen Unified Communications tools made for both small business and enterprise customers
Access web based user portals that deliver a fully customizable user experience with multi tenant capabilities
Provision and configure best of breed devices with the manufacturer agnostic remote provisioning module
Voicemail to email options
Voicemail to Text Translation
Deploy a rich feature set to support carrier class contact and call centers
Extend the power of our platform into other applications with flexible API
Browser based Web-RTC softphone on your desktop
Both Apple IOS and Google Android Smartphone available
Chat and SMS Text Messaging from your desktop
Video Conferencing for your company with invites to anyone via browser
Geo-Redundancy and High Availability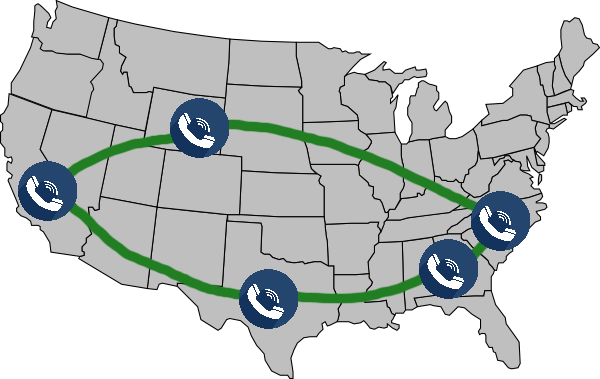 n-Share is a cloud based technology that allows DigitalPhone.io to benefit from a geo-diverse, highly available VoIP network. n-Share allows multiple locations to share information in real-time, creating a seamless system for withstanding failovers while avoiding service disruptions. This allows us to meet our client's expectations of carrier-class uptime, gain loyalty, and readily compete in the marketplace. These services are distributed over "n" physical servers across "n" locations while still being managed as a single application. We currently have three geo-redundant servers in diverse locations across the United States, with plans to add two additional servers in the coming year. Most high-availability and redundancy schemes rely on active and backup servers, with the backup servers left idle, until needed. In contrast, the n-Share architecture is Always Active. It dynamically distributes services across all available servers which increases flexibility and reduces the number of servers required during peak hours. Load can also be shared based on geographic distance from the end-user. This optimizes the quality of service by ensuring voice and video payload will take the shortest path between the sender and receiver.
---
Three Advantages Local Service Providers Have Over the Big Guys

In many industries, it may seem foolish for smaller operations to try and go toe to toe with larger, established competitors. For those in the telecom space, it can be daunting to look at the market landscape and see a handful of major players dominating the industry. According to figures aggregated by Statista, Verizon, AT&T and Sprint accounted for 84 percent of the U.S. wireless market alone. And the wireline market isn't far off when it comes to parity among service providers.
With companies like AT&T laying claim to such large chunks of market space, one may wonder if there's any room for smaller service providers in the telecom world. These organizations should not be dismayed by the disparity between the Tier 1 telecoms and the companies below them. There is a great opportunity for local service providers to carve out their own space in the telecom industry in the current market environment.
The trick is to not become preoccupied with the strengths of a Tier 1 company, but instead focus on its weaknesses. Businesses have been taking this approach for years, and it can even be traced back to the famous Chinese military tactician, Sun Tzu. By taking advantage of a competitor's weaknesses, businesses that appear to be in an undesirable position can succeed. This is no different when it comes to the telecom space. With that in mind, here are three advantages local service providers have over the big guys:
1. Target overlooked markets
Because Tier 1 telecoms have such a stranglehold on major markets, they typically view less populous regions as afterthoughts. In some cases, they may not offer services to a particular area at all. Local service providers can fill those gaps and provide offerings to businesses that may otherwise be left out in the cold.
Even when larger companies do supply to a rural area, service quality is often compromised. Furthermore, users may be hit with a surcharge for being located in a more secluded region. These practices demonstrate a degree of indifference toward rural markets, as Tier 1's are clearly making no effort to tailor their offerings to benefit this client base. In contrast, local service providers can afford to really get to know their clientele and thoroughly understand their pain points. They can customize their service packages so they meet a rural business' specific needs, instead of punishing it for being out of the way. This translates to happier, more satisfied customers who are more likely to stick it out with their current provider when it's time to scale up.
2. Provide personalized customer service
Large telecoms are famously difficult to deal with when a problem arises. From indifferent customer service representatives to ambiguous service times, Tier 1's have cultivated quite a reputation for missing the mark in this area. Rural clients typically run into even more problems than their urban counterparts when a network issue arises. Local service providers are in a phenomenal position to offer a more personalized and considerate approach to their customer service. Because they are in the same area as their clientele, local providers can send out technicians and have them on-site to diagnose and address a problem without delay.
3. Demonstrate accountability
There is perhaps nothing more frustrating than listening to a service provider representative pass blame around when a performance problem occurs. Tier 1 organizations typically come across as faceless entities that don't particularly care when something goes wrong or even seem willing to own up to their own mistakes. Local service providers are in a position to operate on a more face-to-face basis with their customers, building relationships and trust. By holding themselves accountable when an issue arises, local providers can further develop goodwill with clients.
Establishing those relationships matters a great deal for smaller service providers looking to find a foothold and make a name for themselves within a particular local market. As Broadview Networks marketing communications specialist Emily Swartz noted, vendor experience is perhaps the most critical factor to consider when selecting a VoIP provider. If businesses are unable to meet the needs of their target audience and clearly differentiate themselves from Tier 1 organizations, those potential customers will go elsewhere.
Local IP telephony providers are in a fantastic position to capitalize on the weaknesses of larger players in the telecom space. They simply need to offer the custom, personalized services that have traditionally been lacking in the industry.
Contact Us
[gravityform id="14″ title="true" description="true" ajax="true"]
Recent News from DigitalPhone.io
Carolina Digital Phone is proud to be a locally owned Greensboro NC business. We share in the struggles of our neighbors, friends, family, and community as a whole. While we welcome peaceful protesters working towards a change, we will never welcome violence and hatred. Randomly attacking local businesses that are already struggling to stay afloat […]
0 comments