This comprehensive web page is intended to give you a high level overview of our Geo-Redundant cloud-based digital phone services platform. This overview contains many of the high level features offered by Carolina Digital Phone. Your Account Executive and Sales Engineer will be able to answer your specific questions as to how our services will best fit your business or organization. In addition to this page we have developed a number of video training modules that can be seen at https://carolinadigitalphone.com/video-training/
So, what does geo-redundant mean and how does it benefit you? Carolina Digital Phone is a leading provider of hosted voice and data products to businesses, schools and governments. Needing future-proof, geo-redundant network to meet the needs of its demanding business customers and to support its rapid expansion, Carolina Digital Phone has deployed a multi-state, geo-redundant configuration of clustered core servers that have near real-time failover and redundancy. We currently have our Class 4/5 telephone switch in three locations with full, 1 second fail-over in Greensboro NC, Research Triangle Park NC and Dallas TX.
1. Login Access Control Panel
Access to the control panel can be with our secure SSL generic control panel or can be branded with your company or school's secure SSL domain and welcome image. The branded login is at no additional cost and is easily implemented with help from your staff to provide images for the various locations within the Control Panel.
2. Web-Portal Service Features for Basic Users
DigitalPhone.io has deployed a carrier class 4 and 5 softswitch with the ability to allow users and administrators access permissions based on needs of both the system administrator and the end user. End users can be given basic or more advanced access to calling and call handling features. Users have exactly the amount of control you want them to have.  By default, they will have the ability to set their own schedules.  A simple slider bar allows them to block out sections of they day where they may be unavailable and need their calls to route to a cell phone or voicemail box.

Administrators have access to a simple to use yet powerful web interface. This allows them to customize every aspect of their cloud-based VoIP Service. They can address the needs of not only each school or department, but each individual user.  System Administrators will have top level control including but not limited to:
Adds, Moves, Changes
Call Routing
Queues
Conference Bridges
Auto Attendants

Create and Manage Time Frames
Manage System Messages
Call History for All DIDs and Extension
Music On Hold
Multi-Cast (All-call) Paging

You may delegate a reduced administrative feature set to local administrators in each location and empower them to manage some or all of the features in the administrative toolbox.  An example structure would look like the following:
System Administrator →  Full Control
Local Administrator → Moves, Adds, Changes.  Location Call History and Time Schedules.
End User → Their Extension's Call History and Time Schedule.
With the DigitalPhone.io cloud-based VoIP solution, your administrators will have control of the administrative and end user permissions.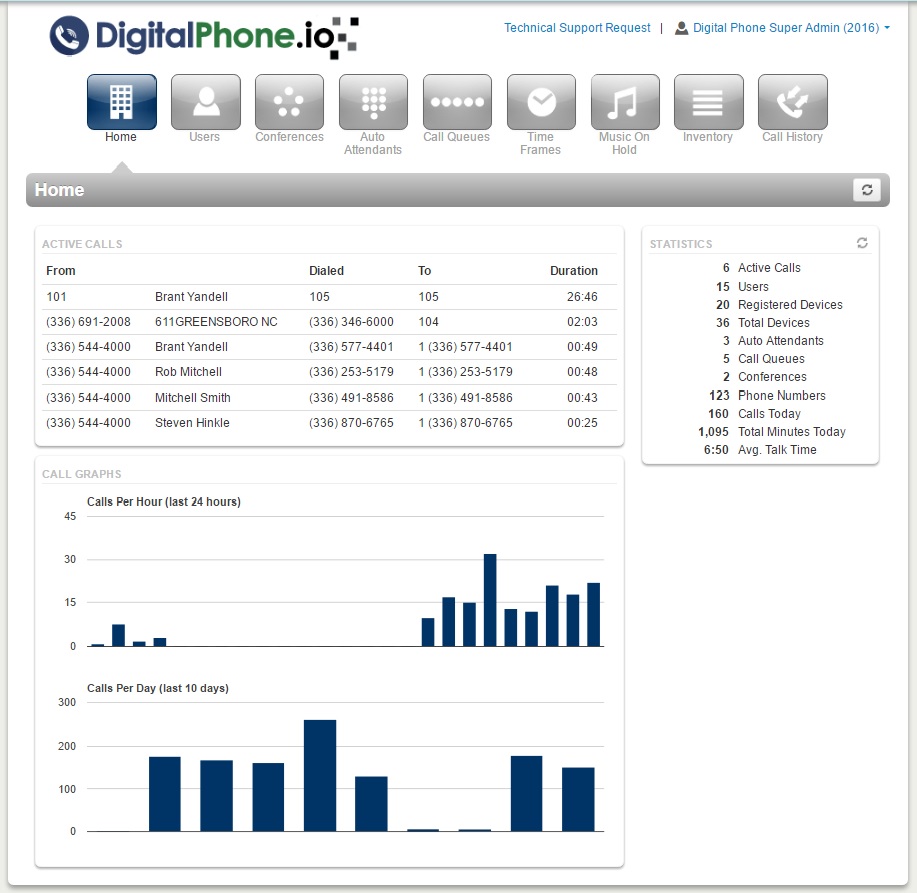 3. Web Based Softphone
Carolina Digital Phone desktop softphone is a browser-based application built specifically for our voice solution platform. One of the many benefits of this application is its ease of use. Designed to mirror the interface of the Carolina Digital Phone smartphone apps, individuals will find it simple to place calls and manage their settings due to its consistent intuitive design. The application can be accessed by navigating to a unique URL in a browser and logging in or by launching the pop-up from the user portal. It does not require any additional software installations or configurations for end-users through which to struggle. All they have to do is launch the application, click a button to grant it permission to use their headset and or speakers, and start dialing. After that, the user can begin to make calls using their browser.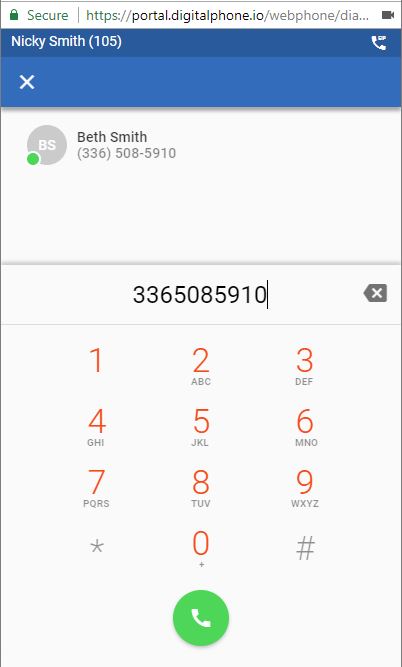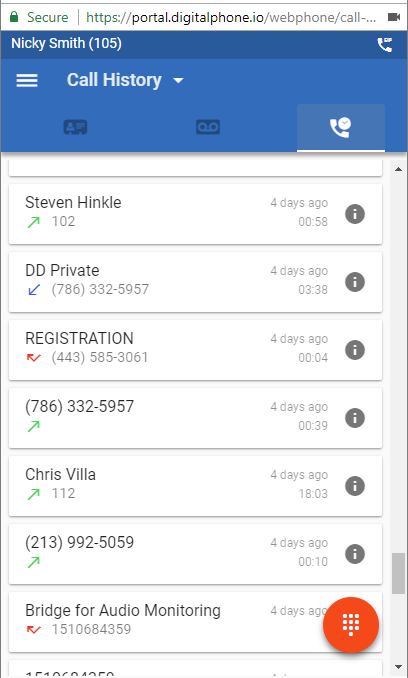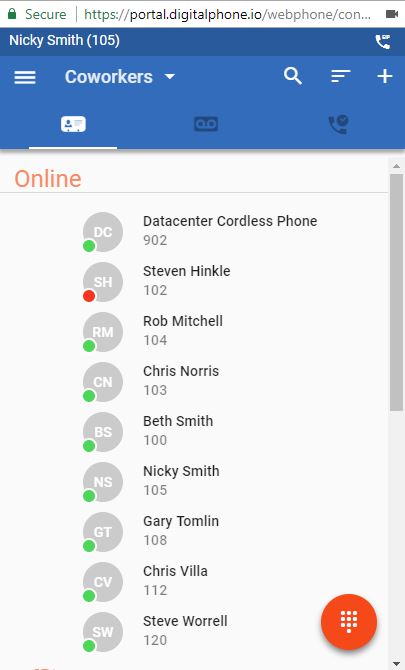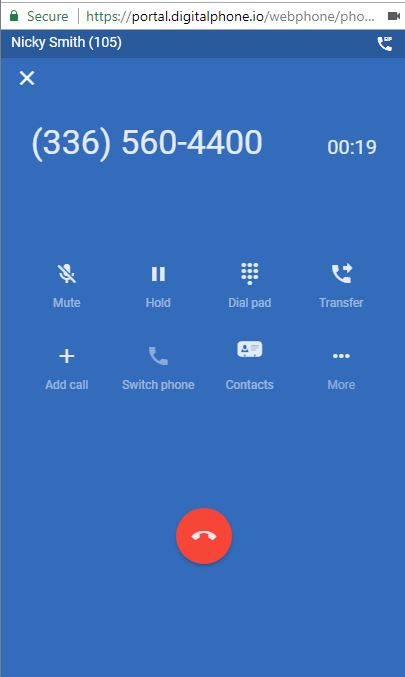 The new app installs quickly and easily, and supports the advanced unified calling (UC) features of Carolina Digital Phone's network. End users maintain the same identity when making and receiving calls from any location regardless of device, and have full management control over various customizations, configurations and calling options (i.e. mute, hold, transfer, add call, speaker, etc.).
In addition, since the app is fully and automatically integrated with Carolina Digital Phone's network, end users can switch from one device to another without interrupting a live call. For example, they can answer or initiate a call on their desk phone, and then seamlessly transfer it to their smartphone if they need to leave the office.
Other key features of Carolina Digital Phone's new softphone app include:
A streamlined, clutter-free interface
Easy-to-use dial pad that is ideal for devices with small screen sizes
Voicemail indicator with details (name/number of caller, time of call, length of message)
Full list of contacts (app and phone)
Complete call history (made and missed)
Answering rules
4. Smartphone Application
Carolina Digital Phone offers at no additional cost per user a softphone application for both the Android and iPhone.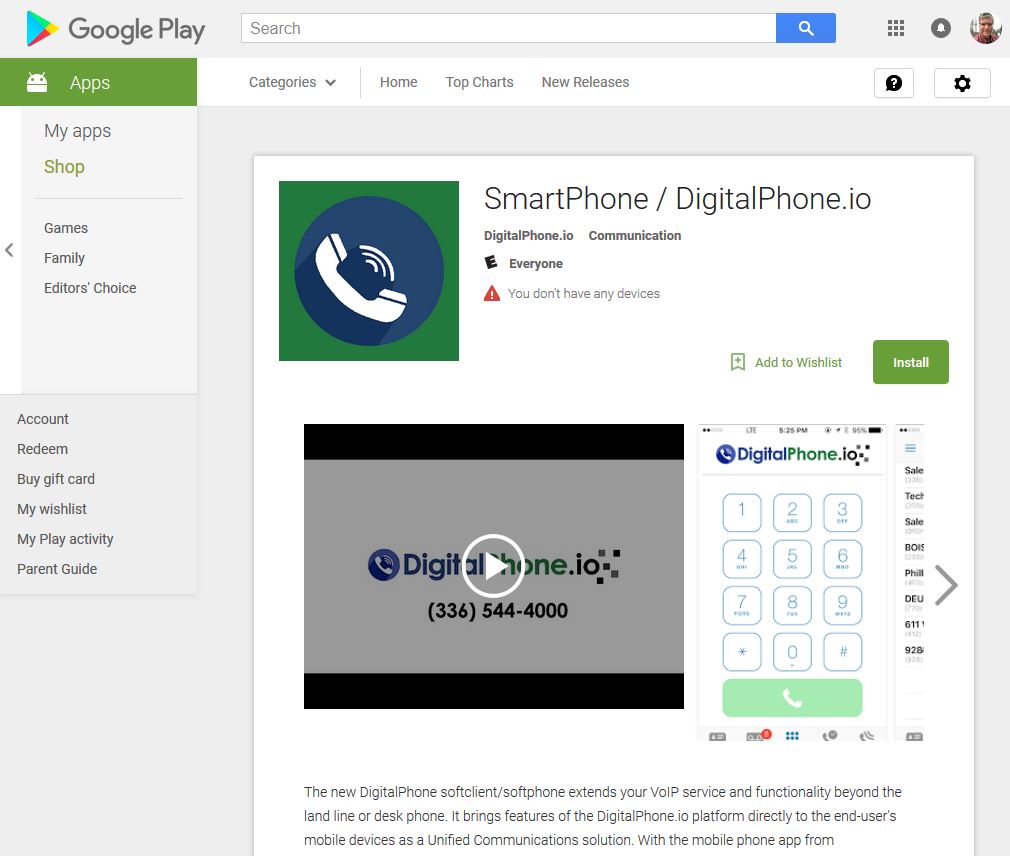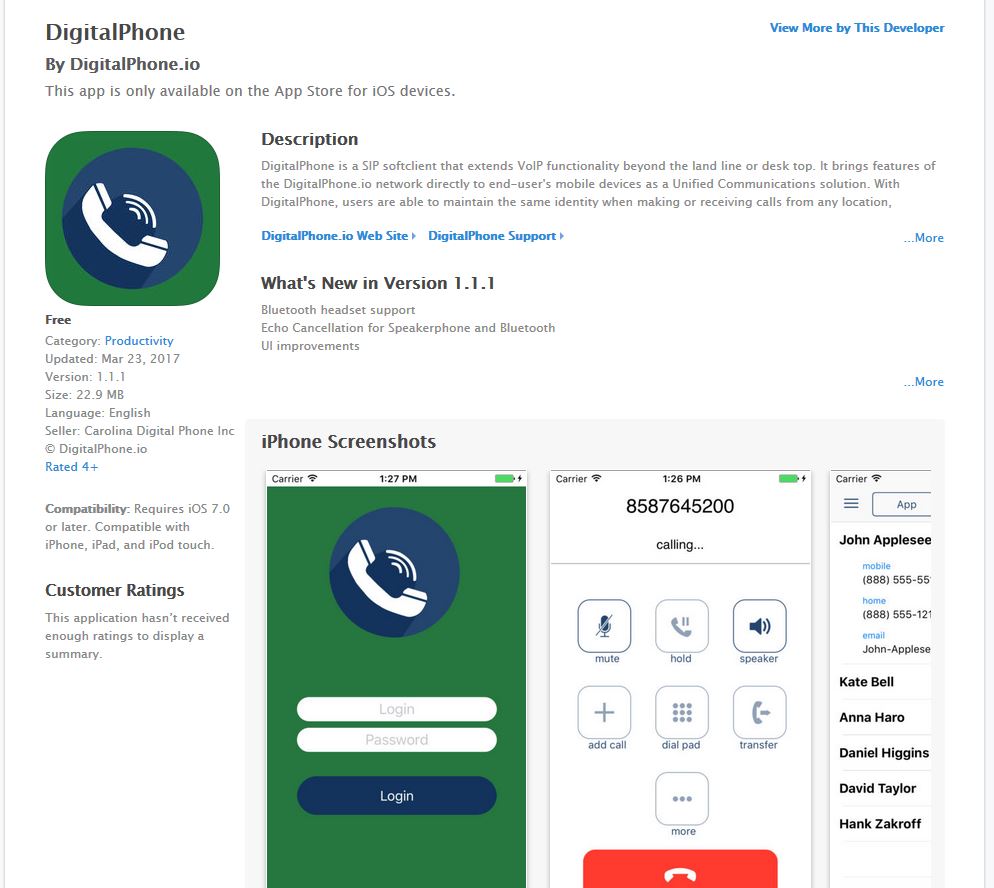 5. SMS and Chat – Integrated Messaging
There is widespread evidence that SMS and Chat are becoming common forms of communications for schools and professional organizations. eWeek reported 80% of people are currently using texting for business. TechCrunch reports that Chat applications worldwide are seeing users spending 50-200 minutes with them per week. If this is the way that workers prefer to communicate, then it's time for schools to adopt these technologies. Starting a conversation using SMS or Chat is easy in our portal. Users can simply click on the Chat icon in the contacts panel or enter a new number and select "Send SMS" from a dropdown menu. You can see the Chat and SMS boxes below. Both options allow users to maintain a unified professional identity by using their direct dial telephone number.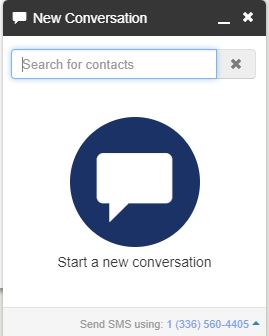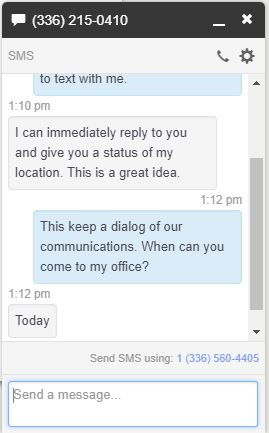 6. Video, Chat and Screen Sharing
Recent trends have shown that traditional corporate workplaces are giving way to a more mobile workforce. Global Workplace Analytics' research finds that 50% of the US workforce holds a job that is compatible with at least partial telework and 80% to 90% of the US workforce say they would like to telework at least part time. Fortune 1000 companies around the globe are entirely revamping their space around the fact that employees are already mobile. This includes the importance of revamping their technological investments in video conferencing and collaboration tools. Carolina Digital Phone has designed an integrated solution that can be deployed easily by any end-user and shared with anyone using a simple link. Unlike most video conferencing solutions, our solution does not require excessive plug-ins or installations. Instead, we have deployed a cloud based video server technology which allows up to 16 video participants that come with screen sharing. Video is in beta testing and will be available to all users in the coming months.
7. Availability of Service
Connectivity to the internet is just one of many components needed to deliver call inbound and outbound to a SIP enabled device. Carolina Digital Phone along with our national wholesale carriers, maintain multiple and redundant call paths for load sharing of inbound and outbound call traffic to your IP enabled devices. The illustration that follows shows our current load sharing servers, with locations and planned west coast expansion for 2020. With this geo-redundant network design, it is highly unlikely a call will not be delivered.
8. Commitment to the Local Community and State

Carolina Digital Phone is a local telephone company based in Greensboro NC and does not have, or will have any future plans to utilize workers outside the United States. As a North Carolina born and raised company we are proud of our commitment of being local to our customers and keeping dollars spent with our company in the local community and state.
Being a local business in Guilford County, North Carolina has many benefits to other local businesses in the Carolinas. Money you spend with your telephone services can stay in North Carolina with Carolina Digital Phone. So when you consider a telephone company to do business with remember that the dollars you spend outside of North Carolina will never come back. As your being a North Carolina based business or school here are just a few reasons why you will want to support other local businesses like Carolina Digital Phone:
Local Decision-Making: Local ownership ensures that important decisions are made locally by people who live in the community and who will feel the impacts of those decisions. Carolina Digital Phone has deep roots to the local economy and its founders and employees are all North Carolina tax paying residents.
Keeping Dollars in the Local Economy: Compared to national companies, locally owned businesses recycle a much larger share of their revenue back into the local economy, enriching the whole community. Not only do we keep our revenue in our local economy, we do business with vendors in North Carolina.
Public Benefits and Costs: Local business like Carolina Digital Phone in town centers require comparatively little infrastructure and make more efficient use of public services relative to larger national carriers.
Competition: A marketplace of tens of thousands of small businesses is the best way to ensure innovation and low prices over the long-term.
Product Diversity: A multitude of small businesses, each selecting products based in North Carolina, not on a national sales plan, but on their own interests and the needs of their local customers, guarantees a much broader range of product choices.
9. North Carolina Data Center and Support Center offices
Carolina Digital Phone is proud of our commitment to employee North Carolina employees and has our call center for new customer onboarding and support in downtown Greensboro, NC. Our data center is secure and we have BGP peering connections or cross connection relationships with tier 1 internet services provider via GigE fiber connections. They include the following: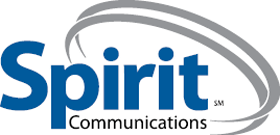 10. For North Carolina Schools, Government Agencies and MCNC Internet Clients
DigitalPhone.io peers directly in two locations with the North Carolina Research and Education Network (NCREN) on it's world-class 2,600-mile fiber network supporting high-speed connectivity for education, research, health care, public safety, and other community anchor institutions throughout North Carolina. NCREN provides high-speed Internet and related services, and is a platform for delivering video technologies as well as customizable, cloud-based services for critical applications such as our cloud-based services.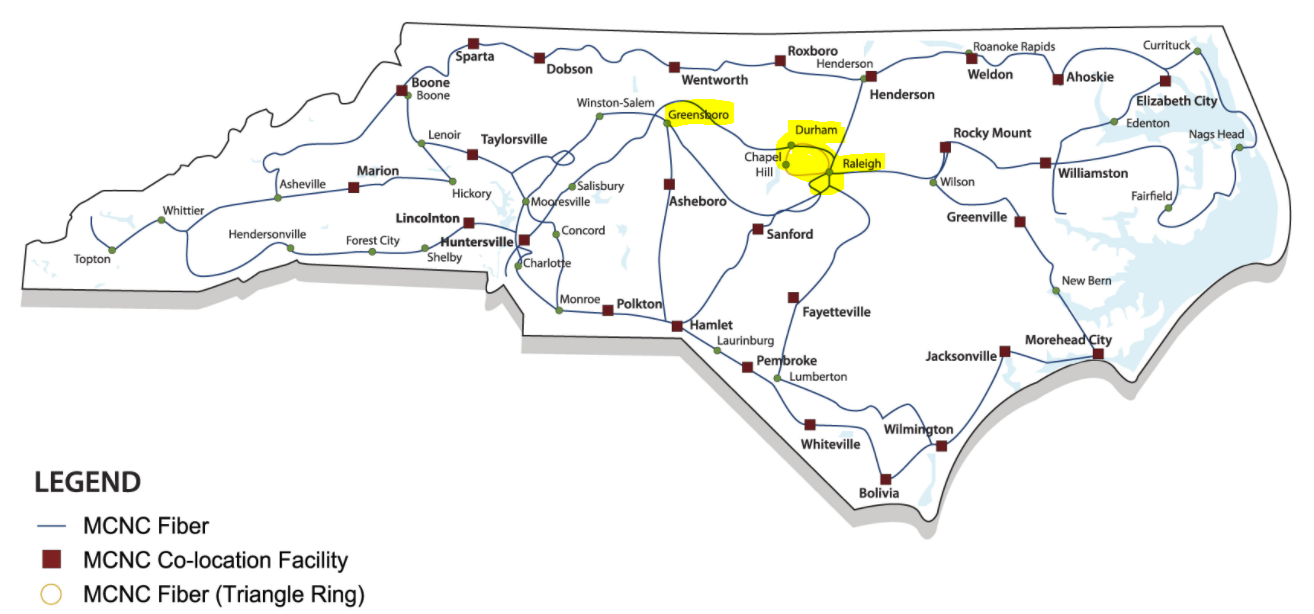 In the event of a failure in either of our two GigE connections with MCNC we have additional connections GigE with Level 3 Communications, Cogent Communications, Spectrum (legacy TW Cable) and Windstream (legacy Earthlink Carrier services).